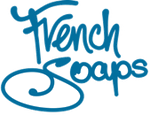 Welcome to French Soaps, the leading importer of authentic French Soaps in the UK. Based in Harrogate, North Yorkshire, we stock a wide range of high-quality and natural products. At French Soaps, we're not just another importer – we're your gateway to the enchanting world of French craftsmanship and luxury.
We source the finest, high-quality products to fill your life with natural beauty. From the timeless charm of French soap bars to the fragrant allure of liquid soaps, cleaning essentials, and home fragrances, we bring a piece of France to your home. We're passionate about purity. Our products are carefully curated to be paraben-free, Sodium Laureth Sulfate (SLS-free), and phenoxyethanol-free. We believe in sustainability, and our selection reflects that commitment.
Crafted With Love
We cherish our relationships with the dedicated savonnieres and perfumeries that we collaborate with. These artisans have perfected the art of simplicity, creating products that are both natural and fragrant. Many of our manufacturers are family-run businesses with generations of expertise, ensuring that every item carries a touch of history and mastery.
Explore Our French Soaps Store
Dive into our French Soaps Store, where you'll find a treasure trove of premium soap products that are as beautiful as they are functional. From traditional Savon de Marseille bars to speciality soaps, you'll uncover the secrets of French luxury. Choose from standard-sized soaps, large bath and shower bars, soaps to use on roaps, as well as traditional Aleppo soap.
Experience the tradition of Marseille liquid soap, in a variety of captivating fragrances. Our collection includes classic French wall soaps too, designed for use with wall-mounted rotating soap arms. Explore our selection of natural household cleaning products, including versatile black liquid soap. These alternatives to chemical detergents are both effective and eco-friendly. We also offer home fragrance products including natural wax candles and diffusers, as well as a variety of laundry products and accessories for soaps and cleaning.
Looking for the perfect gift? French Soaps is your haven for unique and thoughtful presents. Shop our gift sets, gifts for women, gifts for men and much more!
At French Soaps, our passion for our unique products is matched only by our commitment to sharing that passion with you. If you have any questions or need advice, please don't hesitate to get in touch.
Looking for wholesale or trade? Find out more about our wholesale soap for trade and businesses.